Grading the Montreal Impact's 2014 Signings
Way back in August, when writing an article about the Montreal Impact signing defender Gege Soriola, I mentioned the amount of signings the club had completed this season. I was shocked when I learned that – up to that point – the Impact had made 15 signings in the calendar year!
Maybe I'm the only one who didn't release this, but that seems like a lot of player movement and a lot of changeover in the dressing room. Perhaps that is what is lead to Montreal's struggles this season…but that's an article for another day.
So, I've decided to recap all the Montreal Impact's signings since the start of the year and assign them a grade. The grade is based on their performance since joining the club and the potential they show.
(All stats are accurate as of end of 2014 MLS season).
ERIC MILLER
Wing Back,
Drafted January 16
A-
The 20-year-old Miller was the Impact's first round draft pick in the 2014 MLS SuperDraft (5th overall). Miller was used in both the right and left back positions this season and played respectably. The American still has a way to go before he reaches his full potential, but his first season was nothing to cough at. He dealt with injuries towards the middle of the year, but bounced back nicely.
ANDRES ROMERO
Right Midfielder,
Loaned February 10
A+
Andres Romero was recently named the 2014 Impact player of the year, so yeah…he it was a pretty good move by Montreal in picking up the second year of his loan. His parent club, Tombense of Brazil may want him back, following a six goal, three assist campaign. Romero was by far the most consistent player on the squad this season, appearing in 29 of 34 games. I think I speak for all IMFC fans when I say we want him back!
SANTIAGO GONZALEZ
Striker,
Transferred February 14
D
The Uruguayan was the club's only off-season signing and came to training camp with very little known about him. He was the
Jiri Sekac
of the Impact. And as the 2014 off-season reaches its climax we still…know very little about him. The 22-year-old got in a grand total of 80 minutes this season, before being
loaned back to his native country
. This may surprise some, but I want to see Gonzalez with the Bleu, Blanc, Noir in 2015. We haven't seen nearly enough of him to write him off.
HEATH PEARCE
Centre Back,
Signed March 6
C
The veteran centre back was signed as a free agent to try to stabilize the Impact's shaky back line. However, inconsistent play and an injury in August limited his effectiveness. The former American international struggled to forge any chemistry with his new teammates, especially 'keeper Troy Perkins – no Montreal fans need to be reminded about the
Sporting Kansas City game in July
. I'm not sure if Pearce will be resigned or protected in the Expansion Draft. A player with his quality and MLS experience would be a coveted asset for a new team.
JACK MCINERNEY
Striker,
Traded April 4
A+
What a great trade this was! Well done Montreal Impact management! Sending former 1st overall pick Andrew Wenger – who failed to make a splash in his two-plus seasons in Montreal – to Philadelphia in exchange for a proven, young and experienced striker. At only 22 years of age, he has appeared in 121 matches over four seasons, with 32 goals to show for it. 'Jack Mac' was streaky this year, scoring four goals in as many games in June, then being held off the score sheet for his next nine starts. All Impact fans are hoping he can regain the form that saw him put home 14 goals in 2013 with the Union.
ISSEY NAKAJIMA-FARRAN
Winger,
Traded May 16
C
Acquiring the Canadian international from Toronto F.C. in exchange for Collin Warner was a welcomed move for both sides. Warner was underperforming and seemed incapable of handling the centre midfield role for the Impact, while Nakajima-Farran was disappointing in T.O. He was a
high-profile signing for TFC
in the offseason (mainly because he was Canadian), but couldn't secure a place in the suddenly star-studded squad. The winger was used as a substitute for most of the season, but why? The Impact have numerous young midfielders who would benefit from playing in the role that the 30-year-old was given. I would rather have seen those guys get some time than Nakajima-Farran.
MAMADOU 'FUTTY' DANSO
Centre Back,
Traded June 2
D
The Impact traded a 2nd round draft pick to the Portland Timbers to pick up Danso, but he was not given a fair shake with the first team. He only appeared in three games (all losses), spending the rest of the time with the reserves. The big Gambian could have helped Montreal on the back-end, but he needed to actually be in the game to do so.
Danso was released on October 31st
. This rating reflects more the management's handling of Danso than the player's skill level.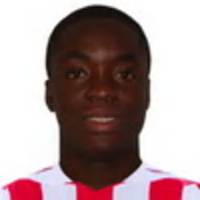 MECHACK JEROME
Right Back,
Signed June 6
-
If you had no clue the Impact had a player named Mechack Jerome, I don't blame you. The Haitian was signed June 6th and released just 20 days later. He did not appear in a single game and because of that, I'm not even going to give him a rating.
GORKA LARREA
Central Midfielder,
Signed June 11
C
Brought in as Hernan Bernardello's replacement after he was
transferred to Mexican giants Cruz Azul
, Larrea played well as a holding midfielder. Although not as affective as Bernardello, the Spaniard clearly has a defense-first mentality, which fits well into
Klopas' 4-2-3-1 formation
. Injury problems limited his playing time late in the year and the Impact announced they would not be picking up his contract for 2015.
KRYZSZTOF KROL
Left Back,
Transferred June 26
A-
It's rather curious that the same day Polish left back Krol was signed, fellow wing back Mechack Jerome was released. Regardless, Krol has been a solid addition to the back line since joining the team. Prior to his arrival, there was a steady stream of players rotating in and out of the left back position, but Krol has since filled that void. He's also shown a strong sense of when to get forward and join the attack and when to hang back and defend. He took a step back late in the season, however I fully expect him to be the starting left back on Opening Day in 2015.
IGNACIO PIATTI
Attacking Midfielder,
Transferred July 2
A-
His journey to Montreal may have been a rocky one, once Piatti got settled in, it was clear why the Impact were so happy to sign the midfielder. He put home four goals in six games and scored in every game he played the full 90 minutes. It will be exciting to see how well he does in a full season in MLS. He's only 28, but the fact that he made comments to an Argentine radio station about
staying in Montreal in the long-term
and about him
possibly heading back to his native country to play
are worrying signs. How long will 'Nacho' actually be here? That's the only reason he was given a minus.
JEREMY GAGNON-LAPARé
Central Midfielder,
Graduated from Academy July 3
A
It was about time the Impact signed Laparé out of the academy. The 19-year-old could be the most promising player to ever come up of Montreal's youth system, with his vision, calmness and ability to control the game from the centre of the park. The Canadian should get more playing time in 2015, as the club chose not to pick up the option on Gorka Larrea's contract. However, he will have to battle with Felipe and Calum Mallace – both established, dependable players – for first team minutes. He actually made two senior national team appearances before even being signed, so that should be more than enough to prove that Gagnon-Laparé can help the Impact right away.
DILLY DUKA
Left Midfield,
Traded July 29
A
Frank Klopas decided to start the post-Nick De Santis era with a bang by bringing in one of his former players from the Chicago Fire, Dilly Duka. At first, I was a bit apprehensive of the move, especially since Klopas gave up proven attacking threat Sanna Nyassi in the transfer, but I have warmed up to Duka. Much like McInerney, he has a great deal of experience for his age. He won't help you out much defensively, be he is a lethal set up man in the final third. Duka has also found his goal scoring touch, in 14 games, he has three goals. Prior to joining the Impact, he had six in 83 MLS appearances.
ANTHONY JACKSON-HAMEL
Striker,
Graduated from Academy August 1
B+
Jackson-Hamel was signed to a pro contract a day before his birthday and made his debut the day he turned 21. A nice story and I think many Impact fans like what they saw from the Canadian in his four appearances. He brought good energy late in the game, exactly what a coach is looking for when he brings on a striker in the final few minutes. Jackson-Hamel and McInerney are the only active forwards on the roster at this point, so if Montreal doesn't sign another target man, he could see some significant playing time. However, signs point to Montreal making a signing, so Jackson-Hamel will most likely be coming off the bench for the majority of next year.
GEGE SORIOLA
Centre Back,
Transferred August 26
B
He didn't get any time in the first team this year, but I am excited to see what Gege Soriola can do. His 6'2″ frame makes him a natural centre back and will give Montreal can aerial they desperately need –
the Impact didn't score a goal off a set piece all season
. Not a whole lot more can be said about the Nigerian, who has represented his country eight times. We will have to wait and see what he does in 2015.
LOUIS BELAND-GOYETTE
Midfield,
Graduated from Academy October 12
C
I feel that Montreal took a chance in signing Beland-Goyette out of the youth academy when they did. He is still only 19 years old and still has a lot of development to do if he is going to be a regular in MLS. I have no doubt he has the potential to become an everyday player, but he needs playing time to do so. With a jammed packed midfield as it is, I'm not sure the Pointe-Claire, Que. native will get the playing time he deserves.
JAMES BISSUE
Attacking Midfield,
Transferred October 18
-
Bissue falls into the same boat as Mechack Jerome. The Ghanaian was signed October 18th, but then released 13 days later. It's a shame really because Bissue
seemed to be an exciting player
to watch and I am disappointed we won't be seeing him sporting the Bleu, Blanc, Noir.
Does you agree with our ratings? Disagree? Let us know! Comment below or send us a tweet @MetropoleSport.